Birthday parties at Mulberry Lane Farm, Inc. are a hit with the kids and truly easy on the parents. Let the farm provide entertainment so you can join in your child's birthday fun. Whether turning 2 or 92 this will be their most memorable birthday ever!
Spring/Summer Birthday Parties at MLF
Mulberry Lane Farm, Inc. offers a special birthday experience for every child!
As always, all admissions to Mulberry Lane Farm, Inc. include an up-close, hands-on educational experience with over 200 farm animals.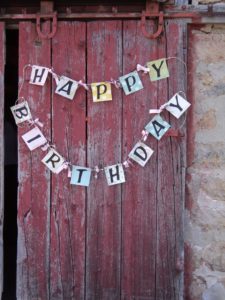 Everyone will have the opportunity to milk a cow, catch a chicken, kiss a pig, hand feed goats, enjoy a hayride, and more during your self-guided tour.   We have an animal educator(s), affectionately called farmers, to assist you as you self-tour the farm and will give you animal facts guaranteeing a fun yet educational experience for guests of all ages.
Our group rate for 20 or more guests is $13 per person (ages 2 to 92) or a minimum of $260. + tax
For groups fewer than 20 our general admission rate is $15/person. $15.50 CC + tax (ages 2 to 92).
For both group & general admissions, children 1 and younger are free.
Before, during or after your self-guided tour of the farm you are free to break for a party gathering if you wish. We do allow carry-ins so bring a picnic lunch or purchase items from our Granary.
For your party gathering, you are welcome to use our outdoor picnic area at no additional cost. If you wish to reserve a portion of the Dairy Barn (time of use is pre-determined) the fee is $50/hour + tax.
(NOTE: No candles or balloons allowed on the farm. You are welcome to decorate with party table coverings, napkins/plates, favors etc.)
Fall Birthday Parties at Mulberry Lane Farm, Inc.
All of the above Spring/Summer b'day fun is included in your birthday reservation.
A fall b'day is extra special at the farm highlighted with a trip to The Pumpkin Patch for each guest to pick their own free pumpkin.
To make a birthday reservation please visit our reservation page to complete the online reservation form or call 920-989-3130.