Annual Pass
Annual passes make great gifts for children of all ages. Don't gift another toy! Instead, gift an annual pass that keeps on giving.
Unlimited visits for a calendar year.
Example: Purchase June 15, 2020 pass is good until June 15, 2021.
$35 Cash per person. (+tax)
$36 Chrg Card in person and online through PayPal per person. (+tax)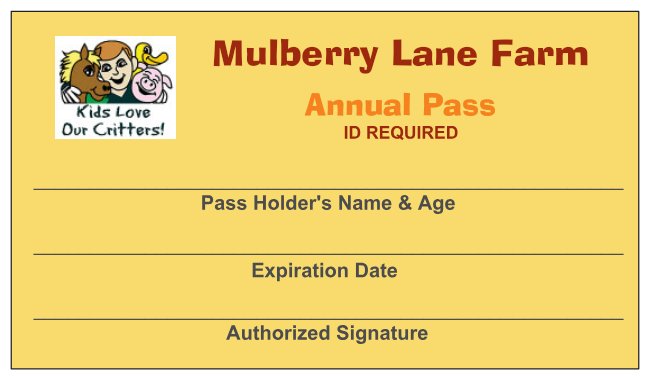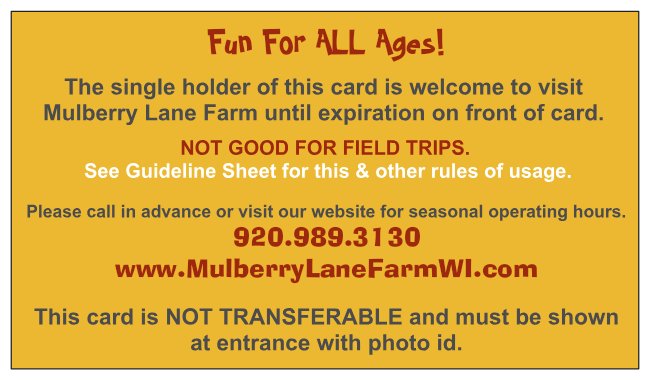 Two simple steps to order today!
One: Email the following information to info@MulberryLaneFarmWI.com
First and last name of each pass-holder
Child card – their age
Adult card – Don't worry. We won't ask your age. But we do need your title. (Mom, Dad, Grandma, Nanny, etc.)
Your mailing address
Two: Click on secure PayPal button to pay for your Annual Pass(s)
(Credit card payments are processed through PayPal. You do not need a PayPal account to process.) 
Use drop-down to select number of Annual Passes you'd like to order
Click on "Buy Now"
Follow PayPal promptings to complete your purchase
Once we receive notice from PayPal we'll promptly mail you your card(s). 
Annual Pass Guidelines
Card Usage:
The single holder of the card (indicated by name printed on your card) is welcome to visit the farm for one (1) year from date of issuance during our General Admission hours of operation.
ID will be requested upon entering the farm. Please check in at Admissions upon each visit.
Card is non-transferable and may not be used by anyone other than person listed on the face of the card.
Card can only be used for GENERAL Admission. NOT good for GROUP Admissions. i.e., school field trip, scouts, birthday parties, etc.
Card cannot be purchased on or used for Special Events. i.e., Mother's Day, Father's Day, etc.
Children 1 and younger are free. If your child turns two during your Annual Pass year, an annual pass or general admission must be purchased for your child to enter the farm.
Farm Admission:
Pass is good during regular operating hours. Visit Dates of Operations page or call (920-989-3130) to confirm seasonal days and hours of operation.
The farm closes 2 hrs. after the last General Admission so annual pass holders are encouraged to visit early since the time the farm closes any particular day isn't guaranteed. 
Example: Last admission 3PM as indicated on the website. HOWEVER, for example, the last general admission family entered at 2PM. (No new arrivals between 2 & 3) The farm will then close at 4PM because the last paid admission was 2PM.
Therefore, it is advised not to wait until the end of the day to visit the farm. Your time at the farm may be greatly reduced.
Parent/Child Guidance:
For your safety and the safety of our animals, children MUST be accompanied at all times at the farm and into the animal pens by an adult.
Walking feet MUST be used both within pens and outside pens. We request that our animals, both in pens and free-range animals, not be chased. We have zero tolerance for any running.
Offenders will be warned. Repeat offenders will then be asked to leave the farm.
Upon next visit, if a warning is issued again, you will be asked to surrender your pass.
Pony Ride / Hayride / Animal Pens:
Upon check-in, at Admissions, you will be given the Pony Ride & Hayride schedule for that day. Typically, hayrides will be on the hour and pony rides on the ½ hour but are subject to change daily.
At check-in, you will also receive a pony ticket for your child's pony ride.
Pony rides are limited to one ride per visit to the farm.
At NO time are you to go into the pony ring w/o an MLF farmer present.
Lost pony ride tickets will not be replaced.
We request annual pass holders give the "right-of-way" to tour groups as they approach the animal pens, pony ring & hayride wagon.
If you visit the farm during a slow attendance day and no general admission guests remain that need a hayride, hayrides will not go out for annual pass holders only.
Fall Pumpkin:
Annual Pass holders are limited to 1 free pumpkin per annual pass year. Additional pumpkins can be purchased.
You MUST have your card present on the day that you pick your pumpkin for farm staff to punch your card. No exception.
Abuse and/or violators of the guidelines will be asked to surrender their pass.